Working together
Working together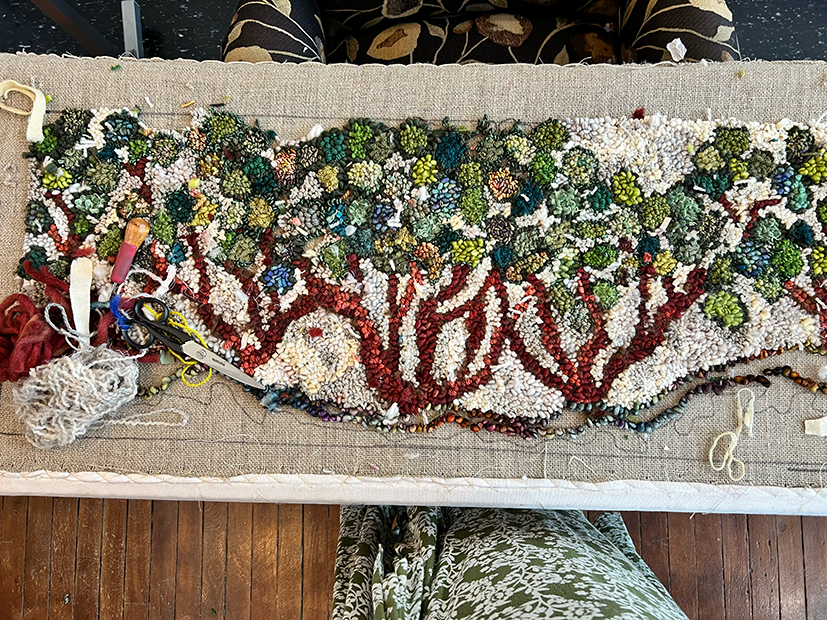 Sometimes when we have a big project in the studio we all have to work together. We have to set aside our own jobs and do shipping or bundle yarn or make patterns or kits. We all just get lost in whatever big project we are working on together. As we leave behind whatever it was we had been doing, we learn new things.
The week I did a lot of shipping, I was out front gathering orders, calling customers and writing thank you notes. Some of us were gathering, some of us were checking, and some of us were packing the boxes. I really enjoyed the camaraderie and the sense of purpose we found in working together.
And the joy of Terry singing along with the radio in her pretty voice. And the sauce and nonsense that was bantered about between Greg, Terry and Angela. Patrick was doing the cash and the dishes and gathering your orders. Igor and Zhanna were in the packing room talking to each other in Ukrainian and making sure the orders were perfectly packed. Greg worked extra and Lily cut yards of burlap.
In the midst of it all Zhanna's mother and sons came to visit us with a homemade warm apple strudel. That was a welcome surprise for us all. A thin layer of homemade crust filled with apples, walnuts and raisins. Perfect.
While all this busy bee hive was happening people were dropping in to shop. We were answering the phones. We were making tea, visiting and having fun. In the midst of all our work there was always a sense of goodness and purpose. We were doing what we should be doing.
I did sometimes slip in the back to hook. I feel a strong desire sometimes to work on my rug and it calls me. So yesterday morning I hooked and resolved some struggles I was having in my rug. And that felt like a big release. And then I went out and worked on the orders again. 
I really love working in there. I love the smell of the wool, the sound of the door opening, the happy laughter when we slip an oatcake into someone's bag, and one too for the lovely one who might be waiting in the car. I like the bunting hanging from the ceiling that Brenda made because it always makes the place feel like a fair. I feel so blessed to have it.
Gratitude you know is one of the keys to happiness. It's not what you got that will make you happy, but knowing what you have and being able to savour it and appreciate it. We are lucky to have customers like you to work for. Your love of rug hooking inspires me to keep creating new ideas and new rugs, and it inspires all of us to work together and to enjoy each other in the studio.