margin of error
margin of error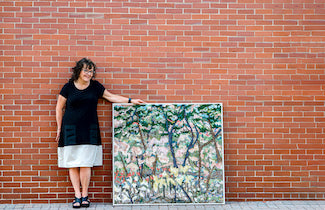 "Perfect. I want it to be perfect." says someone somewhere.
And my heart goes out to them because I know they are going to be disappointed when it comes to making rugs. They are going to struggle. They are going to hook and tear it out again and again.
They are going to worry about every little thing. A slight twist in their loops, or an unevenness is going to upset them. I think that if you feel this way about art you are bound to for failure.
We all know the story of the Amish women who adhered  to the idea that she should put a little error into her quilts because she believed only God could be perfect. The truth is she never needed to do that because there is always some imperfection without ever trying. It might not even be noticeable but it is there. This is life. Even a surgeon is taught that there is an acceptable margin of error, albeit very tiny. 
When we make rugs it is not surgery we are performing. We are creating. We are making and we need to leave ourselves lots of room.
There always has to be room for imperfection. 
There has to be room for error.
There has to be room for our hands.
It is in these spaces that the spirit enters.
It is in these spaces that you find room for yourself to be present.
I am a person who likes things just so. I tweek the pillows, move the table a little to the left and set the places nicely at the table. I stumble over my words looking for the right ones. I work on a big rugs for months following the course through lost and found and I am often never satisfied.
 I like things to be good and nice. I would like perfect though I have never had it and know that there is no chance of keeping it even if you do feel it for a moment.
Perfect is sometimes found when you see a butterfly in the garden, or see the orchid laden bloom of a chestnut tree. Perfect in my mind is a fleeting feeling that lives in the heart for a second or a moment. It is a profound sweetness that cannot be held on to or created by our frail human hands.
It is found in the grain of the wood, more often than it is found in the carpenter.
I like lovely. I am always seeking the beautiful and trying to ignore, or at least better appreciate the mundane. I like things to be just so but when I make rugs I make room for the spirit to work with me. It is inside me, beside me, and hopefully surrounds me. Instead of measuring I am contemplating. Instead of seeking perfection I am seeking beauty. I cannot seek both at the same time. They get in the way of each other.
This is my story of perfection. I make good rugs. I believe in what I do and I do the best I can with what I have been given. But I know they are not perfect, nor am I, yet I make and I make and I make because it is the making itself that I long for, and what come from that is beauty.